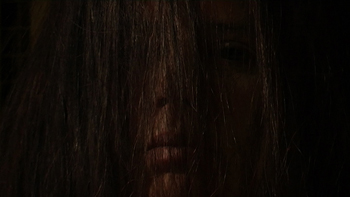 FILM DETAILS
7.53 mins. approx. Colour. 16:9. DV.
Filmed and edited in Madrid at Asociación Cibeles. ©My Oscillating Identity, 2008.


CAST AND CREW
Woman...Concha Almoguera
Direction and screenplay...Tom Skipp
Sound and editing...Tom Skipp
and My Oscillating Identity.

MUSIC
Music "Melancholie".

SCREENINGS
Enquiries: please fill out this online form

AWARDS
Winner of a "Palmares" at FIAV.09 / Festival d'Images Artistiques Vidéo.
---
THE ACTION
A mysterious woman sits waiting. Machinery grinds into movement. She performs a kind of trick... her long hair seems to have a life of its own. The action moves inexorably forward to the strange rhythm of an accordion playing a slow tango.
"Something Old" is part of "Something Old, Something New, Something Borrowed , Something Blue".
4 short films by Tom Skipp which may be viewed separately or together.
SCREENINGS/EXHIBITIONS
15 Group exhibition, Centro de Artes, León, Mexico 2009.
Emergent Occasions, solo exhibition, Demolden Video Project, Santander, 2009.
FIAV 09, Catania, Italy, 2009.
Videoformes, Clermont-Ferrand, March 2010.
ESCA Galerie, Nîmes, April 2010.
OFF LOOP, Maumau, Barcelona, May 2010.
ABOUT THE FILM
Filmed at the Asociación Cibeles in the heart of Madrid. The sound of buskers playing accordions could be heard drifting up from the pavement cafés below on a very hot, sticky night. Long hair plays a major role in this piece, as do textures and patterns.
ABOUT THE TEXT
There is no speaking in this film. Just music and the noise of the lift.
DIRECTOR'S NOTE
The piece is a kind of homage to magic tricks and to Walerian Borowicz's short films.
SHORT BIOGRAPHIES
(Actress) Concha Almoguera, Spain. Artist, curator and event organizer. Architect and Director of IMA Proyectos Almoguera S.L.
(Director) Tom Skipp
A British videoartist and curator, lives in Madrid, Spain. He studied at the Arts Educational School in the Barbican, London, and at Warwick university. His work has been shown at film festivals and art institutions around the world, including Centre Georges Pompidou, Paris, Thyssen Bornemisza Museum, Madrid, Edge Zones, Miami and Urban Research, Berlin. He has also curated a number of art exhibitions including "Tadeusz Kantor - The Theatre of Memory" at Telefonica and Fundació La Caixa de Catalunya, and "Real Spanish Art" at the Nagasaki Prefectural Museum, Japan. His film "Something Old" was awarded a "Palmares" at the recent Festival d'Images Artistiques Vidéo, December 2009, in Catania and Nîmes.