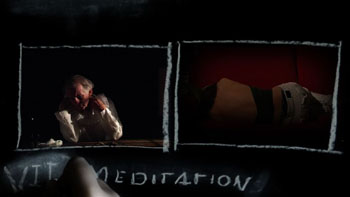 FILM DETAILS
DVD, 16:9, Colour, stereo sound.
Duration: 28 mins.
English language (French and Spanish subtitled versions are available).
Filmed in Spain at Nada Films International and the Asociación Cibeles in Madrid, Spain.
Produced by My Oscillating Identity, year of release 2013.
CAST AND CREW
Peter Shreve in the part of John Donne.
Concha Almoguera in the part of Jane Doe.
Hands - Victor Martín
Directed, photographed and edited by Tom Skipp.
SCREENINGS
For more information please fill out this online form
---
SCREENINGS
Premiere at the Cinémathèque de Grenoble, May 24th 2013
THE ACTION
"Variable, and therefore miserable condition of man! this minute I was well, and am ill, this minute. I am surprised with a sudden change, and alteration to worse, and can impute it to no cause, nor call it by any name". John Donne, "Devotions Upon Emergente Occasions" John Donne, 1624-
ABOUT THE FILM
The film explores and contrasts fragmentary moments of two distinct realities, which nonetheless contain similar action: the small but essential tasks of a bygone age compared to those of a contemporary world; two vanitas from different times presented simultaneously, confronting each other in the composition as though one were the reflection of the other. In one, an elderly man is seated in the light coming through a window, and in the other, a young woman looks into a mirror. The quicksilver surface of the glass acts as a threshold between both worlds, a curtain connecting the two scenes. Thoughts about illness are the driving force of the action, which pushes inexorably onwards thanks to the hand of a child framing the entire work within a drawing. There are no dialogues, just a monologue recited by an off screen voice. The texts read are meditations, extracts taken from John Donne's autobiographical "Devotions Upon Emergent Occasions". In them, the author reflects on his mortality by posing vital, spiritual, political and mundane questions and doubts.
ABOUT THE TEXT
Based on John Donne's amazing account of his battle against illness "Devotions Upon Emergent Occasions".
DIRECTOR'S NOTE
The new project, just finished, is called "Six Meditations in Times of Crisis" and is based on the poet John Donne's "Devotions Upon Emergent Occasions". I devised this project, more ambitious than my previous works, to be seen on two screens. On one screen would be Peter Shreve, dressed in Elizabethan costume, surrounded by objects –a wine decanter and a shell collection– the image arranged to look like a Dutch still-life; on the other screen a young woman, Concha Almoguera, set in modern times, a contemporary vanitas possessing the quotidian signs of our times like mobile phones and alarm clocks. To attain the sought-after atmospheres and to provoke reflecting and contrasting images demanded a long-drawn-out, subtle and painstaking construction. To achieve this I filmed the scenes in a commercial film studio (in Nada Films International in Madrid), where I could have complete control over both the set design and lighting. However, the project started to become unmanageable: the time needed to finish the film required intensive work on editing the shots, technically complex due to the fact that the two screens needed to be synchronized. Additionally, the sound had to be recorded separately, edited and synchronized with the pictures. The project had turned into a kind of unruly puzzle, and to put all the pieces in the right place demanded long hours and dedication. Finally, at the beginning of 2013, I received an invitation to show a small retrospective of my films at the Cinémathèque in Grenoble, and at last I found the time and the encouragement to finish the piece.
SHORT BIOGRAPHIES
(Director) Tom Skipp, England, went to the Arts Educational School in the Barbican, London, and continued his theatre studies at Brooklands College, Weybridge. He graduated in Theatre Studies at the University of Warwick. He toured Europe as a performer and director of plays by Shakespeare, Wedekind, Barnes, etc. Since 1990 he has lived and worked in Spain. In 1996 he organised an exhibition about the Polish theatre director Tadeusz Kantor in Madrid (Fundación Telefonica) and in Barcelona (Fundación Caixa de Catalunya). In 2005, he co-curated the Real Spanish Art exhibition at the Nagasaki Prefectural Museum of Art.
(John Donne) Peter Shreve, Scotland, painter. He grew up in Germany the only son of a German mother and a Scottish father. During the Nazi regime he was sent to a detention camp because of his mixed nationality. He has travelled extensively and has worked in a variety of jobs from a medical orderly to the manager of a racetrack in South Africa. He currently lives and paints in Madrid, supported by a small grant from a Swiss Foundation.
(Jane Doe) Concha Almoguera, Spain, artist, curator and event organizer. Architect and Director of IMA Proyectos Almoguera S.L.
Request Press Kit (Please state the name of the media you work for)
---